ASSOCIAZIONI DELLA SOCIETA CIVILE
GRASSROOT ASSOCIATIONS
Di seguito sono presentatate associazioni della societa' civile che affrontano uno o piu' aspetti dei temi dei "diritti di proprieta' intellettuale", privacy, diritti civili sulla rete, privatizzazione della conoscenza e dei beni comuni, etc…

La descrizione e' in lingua inglese:

per mantenere il testo originale
affinche' possa essere utilizzata anche da non italiani

Here is a list of worldwide grass-root associations, wich address some of the facets of the issues of IPRs, privacy, cyberights, commons, privatization of knowledge, etc……
The Foundation for a Free Information Infrastructure (FFII) is a non-profit association registered in Munich, which is dedicated to the spread of data processing literacy. FFII supports the development of public information goods based on copyright, free competition, open standards. More than 300 members, 700 companies and 50,000 supporters have entrusted the FFII to act as their voice in public policy questions in the area of exclusion rights (intellectual property) in data processing.
Mission: FFII want
to make basic informational resources freely usable
to protect the creator against the plagiator and the public against monopolies
to give political weight to programmers, information-creating enterpreneurs and informationally literate citizens

http://www.publicknowledge.org/

Public Knowledge is a new public-interest advocacy organization dedicated to fortifying and defending a vibrant information commons. This Washington, D.C. based group works with wide spectrum of stakeholders—libraries, educators, scientists, artists, musicians, journalists, consumers, software programmers, civic groups and enlightened businesses—to promote the core conviction that some fundamental democratic principles and cultural values—openness, access, and the capacity to create and compete—must be given new embodiment in the digital age.

Public Knowledge will seek to fulfill four broad goals:

* Ensuring that U.S. intellectual property law and policy reflect the "cultural bargain" intended by the framers of the constitution: providing an incentive to creators and innovators while benefiting the public through the free flow of information and ideas.

* Preserving an Internet that is built upon open standards and protocols and "end-to-end" architecture, thereby fostering innovation and user control.

* Protecting consumers of digital technology from market practices designed to erode competition, choice and fairness.

* Ensuring that international intellectual property policies are adopted through democratic processes and with public interest participation.

If America's founding fathers had anticipated the digital frontier, there would be a clause in the Constitution protecting your rights online, as well.

Instead, a modern group of freedom fighters was necessary to extend the original vision into the digital world. That's where the Electronic Frontier Foundation comes in. Just as Patriots fought for liberty and freedom, we fight measures that threaten basic human rights. Only the dominion we defend is the vast wealth of digital information, innovation, and technology that resides online. The Electronic Frontier Foundation is a group of passionate people — lawyers, volunteers, and visionaries — working in the trenches, battling to protect your rights and the rights of web surfers everywhere. The dedicated people of EFF challenge legislation that threatens to put a price on what is invaluable; to control what must remain boundless. Electronic Frontier Foundation: Because being able to share ideas and information is the reason the Web was created in the first place!

and Public Domain Enhancement Act http://eldred.cc/
This site serves as the focal point for information about the campaign to restore balance to copyright laws by expanding the public domain. Founded as part of Eldred v. Ashcroft, the legal action to overturn the Copyright Term Extension Act (Phase I), it now houses all the documents from that case, as well as new and up-to-date information about advocacy efforts to reclaim the public domain through legislation.

http://creativecommons.org/

"Some Rights Reserved": Building a Layer of Reasonable Copyright

Too often the debate over creative control tends to the extremes. At one pole is a vision of total control — a world in which every last use of a work is regulated and in which "all rights reserved" (and then some) is the norm. At the other end is a vision of anarchy — a world in which creators enjoy a wide range of freedom but are left vulnerable to exploitation.
Balance, compromise, and moderation — once the driving forces of a copyright system that valued innovation and protection equally — have become endangered species.

Creative Commons is working to revive them.
We use private rights to create public goods: creative works set free for certain uses. Like the free software and open-source movements, our ends are cooperative and community-minded, but our means are voluntary and libertarian. We work to offer creators a best-of-both-worlds way to protect their works while encouraging certain uses of them — to declare "some rights reserved." Thus, a single goal unites Creative Commons' current and future projects: to build a layer of reasonable, flexible copyright in the face of increasingly restrictive default rules.

Creative Commons was founded in 2001 with the generous support of the Center for the Public Domain. It is led by a Board of Directors that includes cyberlaw and intellectual property experts James Boyle, Michael Carroll, Molly Shaffer Van Houweling, and Lawrence Lessig, MIT computer science professor Hal Abelson, lawyer-turned-documentary filmmaker-turned-cyberlaw expert Eric Saltzman, renowned documentary filmmaker Davis Guggenheim, noted Japanese entrepreneur Joi Ito, and public domain web publisher Eric Eldred.


Fellows and students at the Berkman Center for Internet & Society at Harvard Law School helped get the project off the ground. Creative Commons is now housed at and receives generous support from Stanford Law School, where Creative Commons shares space, staff, and inspiration with the Stanford Law School Center for Internet and Society. The Board oversees a small administrative staff and technical team, and is advised by a Technical Advisory Board. Creative Commons is sustained by the contributions of a growing group of supporters.

Swarthmore Coalition for the Digital Commons http://scdc.sccs.swarthmore.edu/
The Swarthmore Coalition for the Digital Commons was the first student organization to emerge in the growing free culture movement that we are building at FreeCulture.org. It is dedicated to promoting a bottom-up, participatory structure to society and culture, maintaining a free flow of information, and resisting the recent radical expansion of intellectual property law (as exemplified by the Digital Millenium Copyright Act).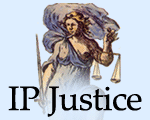 IP Justice http://www.ipjustice.org/
IP Justice is a grass-roots membership based civil liberties organization that promotes balanced intellectual property law. IP Justice defends consumer rights to use digital media worldwide and is registered California non-profit organization.

IP Justice's mission is to:
Build international coalitions and networks between independent organizations working to protect freedom of expression;
Promote laws and technologies that encourage further creativity and innovation, and fairly compensate creators;
Raise global public awareness on the threat to individual freedoms posed by technological restrictions to control intellectual property;
Empower individuals worldwide to advocate for balanced intellectual property laws that preserve traditional consumer rights such as private copying, the public domain, and reverse engineering.

foundation for information policy research http://www.fipr.org/index.html
The Foundation for Information Policy Research is an independent body that studies the interaction between information technology and society. Its goal is to identify technical developments with significant social impact, commission and undertake research into public policy alternatives, and promote public understanding and dialogue between technologists and policy-makers in the UK and Europe.
The Foundation for Information Policy Research (FIPR) is the leading think tank for Internet policy in Britain. It studies the interaction between IT, Government, business and civil society. It researches policy implications and alternatives, and promotes better understanding and dialogue between business, Government and NGOs across Europe.
To further these objectives, the foundation's current approach is to:
monitor technological developments and policy initiatives in Government and business;
identify how information technology issues affect business, freedom of speech, privacy, democratic governance, and the accountability and efficiency of public administration;
commission and conduct research on relevant topics;
disseminate and promote the findings of research;
organise specialist seminars and conferences;
work with Parliament, officials and others to improve the quality of Government policy making and legislation;
use the news media to stimulate wider public debate about the policy implications of new developments in technology.
The Foundation for Information Policy Research is a non-profit organisation established in May 1998.

WSIS CIVIL SOCIETY WORKING GROUP on PATENTS, COPYRIGHTS, TRADEMARKS http://www.wsis-pct.org/

The thematic Working Group (WG) dealing with Patents,Copyrights, Trademarks (P.C.T) and related issues, within the framework of the Civil Society contribution to the World Summit On the Information Society (WSIS) organized by the United Nations.

The WG comprises two kind of boards. The Steering Committee includes NGOs' representatives. The Advisory Committee may include representative of any WSIS participants : UN, IGOs, Governments, Business Entities and NGOs. The task of the Steering Committee is to prepare contributions to the draft Declaration of Principles and Action Plan, to organize round tables, meetings, actions in relationship to WSIS PCT issues. The Advisory Committee provides help to the Steering Committee, and may include representatives of governments, foundations and companies that are willing to participate and provide assistance to events organized by the WG


http://www.centerpd.org/

It is a non-profit foundation that supports the growth of a healthy and robust public domain by establishing programs, grants, and partnerships in the areas of academic research, medicine, law, education, media, technology , and the arts.

http://yro.slashdot.org/
On-line community and dicussion group.
Slashdot is owned by Open Source Development Network, Inc. ("OSDN").
OSDN (Open Source Development Network, Inc.) is the most dynamic community-driven media network on the Web.
OSDN publishes two world-renowned networks of Web sites: the OSDN technology network, and the MediaBuilder network. OSDN delivers more than 180 million page views and reaches 10 million unique visitors per month.
OSDN technical sites attract all levels of IT decision maker and technical buyer, from C-level to project managers. Technologists, enterprise architects, developers and system administrators all turn to OSDN to create, debate, and make or break IT news, and learn about the latest tools, technologies and techniques.
OSDN sites include Slashdot.org, the award-winning news discussion site; and SourceForge.net, the world's largest collaborative open source software development site.

European Digital Rights http://www.edri.org

European Digital Rights was founded in June 2002. Currently 14 privacy and civil rights organisations from 11 different countries in Europe have EDRI membership.
Members of European Digital Rights have joined forces to defend civil rights in the information society. The need for cooperation among European organizations is increasing as more regulation regarding the internet, copyright and privacy is originating from the European Union.
Some examples of regulations and developments that have the attention of European Digital Rights are data retention requirements, spam, telecommunications interception, copyright and fair use restrictions, the cyber-crime treaty, rating, filtering and blocking of internet content and notice-and-takedown procedures of websites.
European Digital Rights has an active interest in developments regarding these subjects in the EU accession countries and would like to identity partners in those countries.

Since January 2003, European Digital Rights produces EDRI-gram, a bi-weekly newsletter about digital civil rights in Europe.
European Digital Rights is an international non-profit association (AISBL) under Belgium law granted by decree Nr7/CDLF/14.853/S of 12 February 2003 and registered in Brussels.

Statutory membership is restricted to not-for-profit, non-governmental organisations whose goals include the defence and promotion of civil rights in the field of information- and communication technology. Organisations that which to join should contact European Digital Rights or one of its members.
The members of European Digital Rights are (in alphabetic order):

http://www.aclu.org/

The American Civil Liberties Union (ACLU) is our nation's guardian of liberty. We work daily in courts, legislatures and communities to defend and preserve the individual rights and liberties guaranteed to every person in this country by the Constitution and laws of the United States. Our job is to conserve America's original civic values - the Constitution and the Bill of Rights.

http://www.nyfairuse.org/icc/index.xhtml

This organization defends the commons under attack.

NYfairuse states:
"Today our commons is under attack

The attack is wide and pervasive. Even our right to own and use computers inside our homes and offices, is under attack. The time has come to assemble and declare our rights. We call upon advocates and organizers, authors and cow-orkers, readers and singers, politicians and students, grandmothers and children of all ages, and all who support the right of free human beings to the free dissemination and use of information rendered to the commons for the benefit of the public Sustaining and expanding the Internet as a global commons requires a cohesive international unity movement analogous to environmentalist efforts protecting natural resources. The Internet Commons Congress provides an opportunity for education, networking, and cross-fertilization between efforts like those supporting peer-to-peer file sharing, VoIP, free software, open access, digital divide, and tax moratoriums."

League for Programming Freedom http://lpf.ai.mit.edu/
The League for Programming Freedom is an organization that opposes software patents and user interface copyrights.
LPF states:
"Software patents threaten to devastate America's computer industry. Patents granted in the past decade are now being used to attackcompanies such as the Lotus Development Corporation for selling programs that they have independently developed. Soon new companies will often be barred from the software arena--most major programs will require licenses for dozens of patents, and this will make them infeasible. This problem has only one solution: software patents must be eliminated."

http://www.democraticmedia.org/
The Center for Digital Democracy is committed to preserving the openness and diversity of the Internet in the broadband era, and to realizing the full potential of digital communications through the development and encouragement of noncommercial, public interest programming. To these ends, CDD has four broad goals:
To enhance public understanding of the changing dimensions of the US digital media system, by explaining the communications options and the public-interest resources that citizens should have at their disposal.
To foster the development of a new generation of activists to work on digital media policy issues, and to make the media industry more accountable to the public.
To promote the development of a new online "commons," a consolidated and more visible space in which the public will have access to a variety of noncommercial sources of information and service.
To stimulate nonprofit organizations (especially progressive, public-interest groups) to become active producers of next-generation broadband media content.

Global Policy Forum http://www.globalpolicy.org/visitctr/about.htm
---